If you want to permanently delete or deactivate your Instagram account ? In this tutorial we have explain step by steps solutions about deactivate your Instagram Account.
When you deactivate your account, your profile, photos, comments and likes will be hidden. There is no option to disable your account from within the Instagram app.
here, We will give you an idea about how to delete an Instagram account. However, do note that you will not find any option to delete the Instagram account through the app. You will have to log in to the desktop version through the browser and follow the steps mentioned below.
How To Delete Your Instagram Account
First Things You Need To Know Before Deleting The Instagram Account
---
Deleting the account will result in complete data loss (photos, profile, videos, followers, likes, comments).

There is no way to reactivate a deleted account nor can you use the same username again.

If you want to just depart from Instagram but still keep the data of your profile, then you can temporarily disable your account. After you disable the account, no one would be able to see your profile (they would think that you have literally deleted the account). But, you can activate the account by logging in the next time.
Steps To Permanently "Delete Instagram Account"
---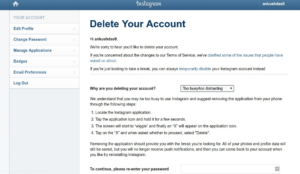 Head on to Instagram Account deletion page through the browser. 
Now Log in to your account if you have not already.
After you have successfully logged in, you will be asked to specify the reason why you are going to delete the Instagram account. In addition, you will be suggested to simply uninstall the app if you want to take a break.
Specify the reason and then scroll down to re-enter the password to confirm your deletion.
Finally, click on "Permanently delete my account".
In case, you changed your way and want to save the data but keeping your profile unknown from the world, you can simply deactivate the account temporarily. Here's how you can do that:
Steps To Temporarily "Deactivate Instagram Account"
---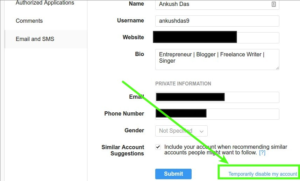 Head on to Instagram account edit page through the browser.
You will be asked to log in to your account if you have not already.
After logging in, you will find the account edit page where it lets you edit the information associated with your account (phone number and so on.)
Simply scroll down to the end of the page to find "Temporarily disable my account". Click on it to deactivate the account. To reactivate the account, you need to log in again and your Instagram account will be automatically reactivated.
Did you have any difficulty following the steps mentioned above? Let us know your opinion in the comments section below.