Let's begin the discussion by understanding the terms 'guest '. It means to post one's content on others' blog. Guest blogging is a great resource for exposure, outreaching, expanded branding, establishing expertise and to build credibility. If one is capable of following the given strategies, it's a duck soup to get his content posted.                           
The crucial step to guest posting is the choice of website for sharing our work.
Research
One must go through excessive research on various websites and jot down the potential ones. The website must be capable of engaging long term readers. In this way, it is highly likely that our content is reached out to as many audience as possible. It is always advisable to go through the guest blogging guidelines of the respective website, as they provide a practical and ethical framework.
Few of the important topics one must focus on in these guidelines are for word count, acceptedappropriate topics the website allows, the lifetime of the post. After all, it's the platform we choose that becomes our pathway to success                               
Pitching the idea
The first and foremost thing a person has to look after is to reach out to the admin of the blog and pitching them your idea. Pick an eye-catchy subject that will leave him almost undeniable to reject your mail. We must be really persuasive while debating about how beneficial it is for both the parties. Focus on why you believe that your work has to be published on their website. A good email with appropriate use of terms will do the work.                             
 Be Unique
When it comes to guest posting, our content has to be stand-out among the rest. For this, the choice of topic plays a key role. One must not choose from an outdated topic which might not be in the best interest of the reader.
A high quality, well-written, statistically driven and perfectly versed content is the one that grabs attention. Our work has to be able to reach the reader's expectations.
Thorough research on the topic has to be done and practical facts are to be taken into consideration to back up our claims. We should always stay relevant to the website's content. You can link the previous work of your own site or previous blogs to the current one which is likely to show your expertise on blogging.
Being fully aware of the blog's content is the key role in pitching our post. Deviating from it might often land you in trouble, so one must always stay in the track about his content. 
Read the various articles posted on their site so as to get a gist of the topics chosen. Pour in all your thoughts and explore your knowledge on a particular topic.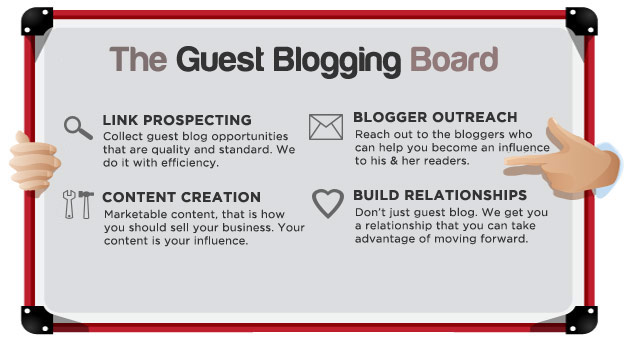 Be open to receiving insightful feedbacks from fellow contributors and audience. This will widen your ideas and help you in creating more efficient content. Engaging with the audience is often seen as a good trait when it comes to blogging. Make sure to promote your work among your own audience through social media and various platforms.
You might also like to know about what backlink means an how to get it easily.
Conclusion
With the help of above guidelines one can ensure their guaranteed success and fame among co-bloggers. Hoping this article has provided required insights, thank you..