Finally, Samsung's gear manager app launched for iOS and Android. Here's a simple step-by-step procedure to install.
Here, you can download Samsung gear manager app on your android, iOS. This app works only for Samsung's new smart watches like Samsung gear, gear s2, gear s3. Samsung gear Smart watch is connecting to your Android smart phone or iOS through the Smart Gear Manager application. When connected to your Android or iOS devices, Samsung Gear Manager lets you use all the features of your device on your wrist thus saving you the difficulty of moving your relatively larger phone in hand.
The Samsung galaxy gear manager is the very well-design and intelligent companion for your android and iOS devices. And Samsung has to provide most handy functionality and easy to people attract. In the trends of smart devices Wearable technology is unique.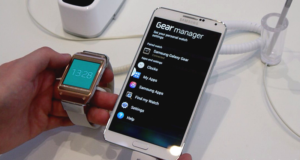 Though previously restricted to Samsung manufactured devices only but now they have allowed it to be used on other third party Android devices as well. Although you will have to know about the compatibility of your device with Galaxy Gear before installing it.
Once you have the Samsung Gear Manager installed on your device you will be able to use the same features as a galaxy user enjoys.
Samsung gear manager app features:
Samsung Gear Manager Lets you use and manage all the applications on your Android or iOS Smartphone so that you don't constantly have to look at your phone or tablet for notifications.

Warnings related to phone calls, text messages, emails, Facebook and such are shown on the Galaxy gear from where you can react quickly and easily thus saving time and battery life of your phone or tablet that you can put away safely.

Samsung Gear Manager lets you use the Smart Relay feature of Galaxy Gear that allows it to open the associated application once you pull out your phone or tablet as a reaction to a certain notification.

Using the Galaxy Gear puts you in a habit of putting your phone or tablet away most of the time. This may make you misplace your phone or tablet. And when you are unable to locate your phone/tablet the Locator feature in the Galaxy Gear lets you find your lost device by activating the sounds or vibration remotely from your device.

Through the Samsung Gear Manager, its gives you a hands-free control of your device. Through this you can make and receive calls on your Galaxy Gear.
Download Samsung Gear Manager App for Android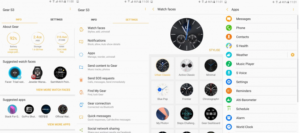 Here, Samsung Gear Manager App is all android devices to supported. Now follow the steps to download and install gear manager app on your android.
Download APK File. Here
In case installation blocks go to your device settings -> security -> app configuration/management- > allow installation from "unknown sources".
Open the APK installer package.
Follow the screen and install the Android apk.
Done!
Download Samsung Gear Manager for iOS
The Gear Manager App for the iPhone is currently not available, although it was expected at the start of the year. The iOS Beta program started a few months ago for the Gear S2 (inc 3G devices), Gear Fit 2, and began to incorporate the Gear S3. In order for you to take part you needed to have an iPhone 5, 5S, 5C, 6, 6+, 6S, 6S+ or SE, and be running iOS version 8.4 or later. Users of iPhone 7 and iPhone 7 Plus have also been able to take part since these devices have now been released.
Whilst we wait for the iOS Gear Manager app to become available users are using the Leaked version that became available. Hopefully, we won't have to wait too long now for the official version.
Download Gear Manager from Here
Connect your iPhone to the computer
Double-click on the beta file(*.ipa) which launches iTunes
Sync iPhone
Choose App ("Gear S3") and install on iPhone
Go to iphone settings > general > device management and trust the Samsung certificate
Factory reset Gear S2 or Gear S3
Switch On Bluetooth
Pair Gear S2 / S3 inside iPhone beta Gear Manager app
Now easy to use Gear Manager App on Smart watch and download the new gear apps on your wearable. You can also check foxfi key apk .
How to Connect your Gear S2, S3 or Fit 2 with an Android, iPhone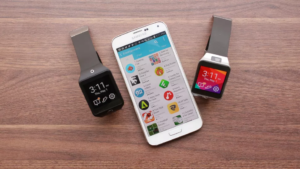 Firstly, head over to download and install the Samsung Gear S app. Prepare your Gear manager wearable to be connected to a new device by going into settings and scroll down to find the 'Connect to New Device' option and tap on it. Now, follow these steps to get started-
Enable Bluetooth on your iPhone.
Launch the Gear S app.
Select the 'Connect to Gear' option.
Tap on the 'Pair' button when you get a prompt for connecting your Gear device via Bluetooth.
Now, on your Gear wearable, tap on the Tick when it prompts with a numerical passkey similar to the one displayed on your iPhone.
Enable all the service access to your Gear device on your iPhone as prompted by the app.
Tap on agree to license agreement like you always do.
And that's all there is to get started. Now you can play with different watchfaces, health apps, etc on your Gear S2, S3 or Fit 2 connected with your favourite iPhone.