If you need a help become a restoring iphone backup from the include, then we have listed in some solutions steps for your iOS device to easy to backup it from iCloud, It's a very simple and easy to do.
If some people may be moving old Smartphone to new, or some other iphone 5 to iphone 6 or 7, in this cases you need to do a reset your old iphone device, then you can easily restore all of your data from iCloud.
After Note down that you also need a new device or you need to reset (erase all content and settings) your iPhone, in sort continues to restore the recent iCloud backup. There may be many backups available, but you should always watchfully select the last backup to restore from unless there is a problem.
How To Restore iPhone 6 From iCloud
Step 1: Go to Settings app > [your name] > iCloud > Storage > Manage Storage (or for older version of iOS 9 and below, Go to Settings > iCloud > Storage > Manage Storage), then tap a device listed under Backups to see the date and size of its latest backup.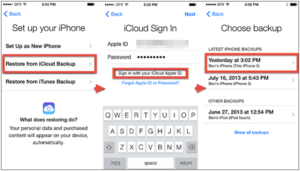 Step 2: Now simply tap to "Restore from iCloud Backup".
Step 3: Go to Settings > General > Reset, then tap "Erase all content and settings."
Step 4: On the Apps & Data screen, tap Restore from iCloud Backup, then sign in apple account to iCloud.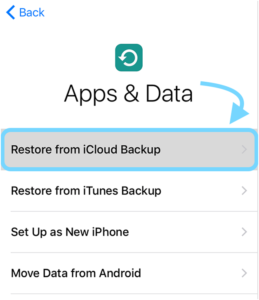 Step 5: Continue to "Choose backup" then select from a list of available backups in iCloud.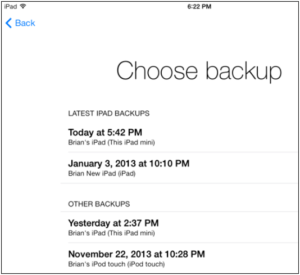 Step 6: Finally, the Select the one to get started with the restoring process. If you are asked for your credentials, you should proceed typing in.
After device will restarts and initiate automatically downloading your purchased music, movies, TV shows, apps, books, photos, and other content. And Make sure you happy with all your app and data with new iPhone device.
You may want to check iCloud's storage preference to make sure whether the restore process is complete or not. The purchased content will be automatically downloaded after you choose to restore.
That's it all proceeds complete and enjoy with new device.